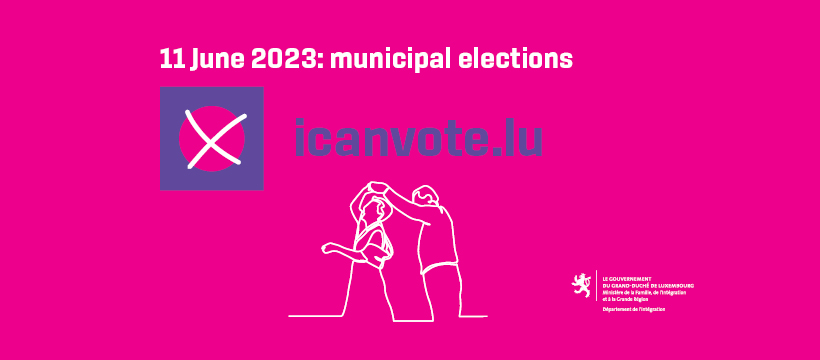 Why vote?

By participating in the municipal elections on 11 June 2023, I directly choose the municipal councillors who will defend my interests and those of my municipality for the next 6 years.

Let's participate in the next elections and make our voice heard in local political decisions!
Who can vote?

In order to participate in the municipal elections, I have to meet the following 3 requirements:

I am 18 years old on 11 June 2023 (the day of the elections).
I can go to the population office of my municipality at any time in order to register, but at the latest 55 days before the day of the municipal elections.
I have not lost the right to vote in my country of origin or in Luxembourg.* I have not been sentenced by a judge to a criminal penalty.

By registering, my right to vote becomes an obligation.

My right is twofold: I can vote for the candidates who are running. I can also be a candidate in the local elections.

*Caution: I will, however, be able to vote if I have lost my right to vote in my country of origin because I have moved to Luxembourg.

How to register?

1. option: I register online

I can register electronically from now until 55 days before election day at the latest via the Guichet.lu portal using my LuxTrust certificate.

This process only takes a few minutes and I save myself a trip to my local administration.

Please note: my LuxTrust product must have an activated certificate.

2. option: I register in my municipality

I go to my municipal administration from now until 55 days before election day with a valid identity document (identity card, passport).

I present my identity card or passport to the official at the population office.
I fill in the declarations provided by the municipality (specifying nationality, place and date of birth, etc.). By registering on the electoral list, I now commit to participate in the elections.

Good to know

Once registered, I am automatically re-registered for the next municipal elections and my vote is therefore compulsory.
If I move, I am automatically transferred to my new municipality's electoral list.

Info: I can request to be removed from the electoral list at any time. To do so, I have to contact my municipality. My name is automatically removed if I no longer meet the conditions required to exercise the right to vote. For Luxembourgers, voting is compulsory until the age of 75.